About YVRA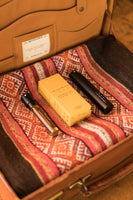 The perfumer's Amsterdam heritage
Since his 6th birthday Yvo realized that he had the gift of the nose and started
 to determine scents. When he was 18
 the fragrance company IFF asked him to become a "nose" and offered him a job in NYC. Yvo chose instead to become a professional cellist and studied at the Florence Conservatory. Due to an injury to his left hand, he decided to switch to study law. He later on became a journalist, focusing on the world of fragrances and lifestyle.
Yvo's first creation
After a journalistic career in which he traveled around the world over 36 times, he had one dream unfulfilled: instead of writing about perfumers he wanted to create his own.
Famous perfumers, including Jean-Claude Ellena of Hermès and François Demachy of Dior and Acqua di Parma, encouraged him to develop his own fragrance. The stimulus of two famous perfumers resulted in Yvo's first creation of YVRA 1958 l'Essence de l'Essence.