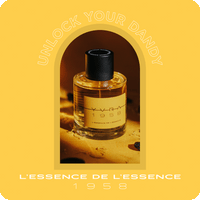 MEET THE CLASSIC
YVRA 1958 is reminiscent of the classic, transparent Eau de Colognes, that dominated the sixties and seventies of the last century. But YVRA 1958 is more aromatic, vibrant and longer-lasting than a classic citrus fragrance.

YVRA 1958 is a scent with a real lust for life…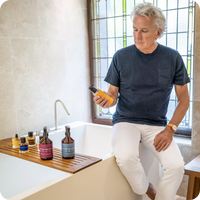 KEEP CLEAN
With this new Hand & Body wash, I want to offer an alternative in a world dominated by variants whose synthetic aggression is more likely to lead to a hasty goodbye rather than an intimate embrace and a relaxing shower.
YVRA 1958 Hand & Body wash contains a high concentration of perfume oil and provitamin B5. Together, these elements ensure that your skin feels hydrated, cleansed, and fresher than ever after showering. 
Listen to YVRA 1958
Want to feel the mood of L'Essence de L'Essence?
Check out the Spotify playlist. Contains hints of Buena Vista Social Club, AfroCubism and Rodrigo Amarante.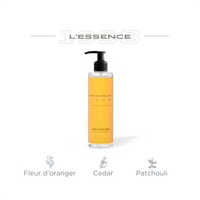 THE SCENT NOTES
L'Essence de L'Essence opens with a vivid and extravagant note with the dominant use of energetic Calabrian citrus. Its transparent character is further enhanced by sparkling hints of orange flower for a mysterious hint. YVRA 1958 concludes with a lingering finale consisting of cedar, patchouli and the complex, lusty tones of Tonka bean. 
Top notes
Lemon oil • Bergamot • Fleur d'oranger
Middle notes
Pepper oil • Cardamom • Cedar
Base notes
Sandalwood • Amber • Feves tonka
A message from the founder
As a style and travel journalist, I have immersed myself in the world of seductive scents from an early age. Thanks to my interviews and close contacts with several renowned perfumers, I have been active in the world of niche perfumes myself since 2017. With my scents I aim to offer an inspiring alternative in a world dominated by commercial fragrances. In composing my scents, I am therefore attracted to the world of original thinkers and dandies. 
After all, the dandy lifestyle is characterized by individuality and an eye for quality, while usually also being quite extravagant and cosmopolitan. This is exactly what we strive for at YVRA: originality, flamboyance and, of course, always an eye for refinement.
Frequently Asked Questions
Who is the man behind YVRA?
Yvo Van Regteren Altena, born in 1958, has traveled the world and documented a dandy lifestyle for over 30 years. As a gentleman journalist, he engrossed in all that defines good taste, decadent living and perfumes in particular. Traveling the globe he met the greatest 'noses' and was influenced by their obsession with the right blend of spellbinding ingredients.
In the past few years, Van Regteren Altena created two perfumes under his own name; l'Essence de l'Essence and l'Essence de Présence. Both creations got an international claim. He is obsessed with a better smelling world and, next to his outstanding perfumes, offers highly refined products with sophisticated extravagance and a humorous tone of voice such as a scented screenwash, l'Essence de l'Automobile. Soon he will launch his third intriguing perfume which will appeal to even the most spoiled modern dandy.
How can I pay for my order?
Our payment methods include iDEAL, Bancontact, Creditcard and PayPal.
When will I get my order?
If you ordered before 16:00 CET within the Netherlands your package will be sent the same day and arrive within 1-2 working days.
If you ordered from another country within Europe you can expect your order to arrive between 3-6 working days.
If you ordered from a country outside of Europe you can expect your order to arrive between 5-10 working days.
How can I track my order?
After you place your order, you'll immediately receive a confirmation email. We'll send you another email when your order ships that includes a tracking number, so you can keep track of just how soon your product(s) will arrive.
What is your return policy?
We hope that you love the scent of YVRA as much as we love it. But we want you to be happy. Our return policy applies only if you bought your YVRA product here. If you bought it at a retail store and would like to return or exchange it, please contact the store directly. If you bought your product here and for some reason are not totally happy with it, you can return it in new and unopened condition within 30 days of the purchase date for a refund. We do not credit or refund shipping charges. We recommend using a traceable carrier (like PostNL or UPS), insured for the full value of the return merchandise. We are not responsible for return packages lost en route. YVRA does not process exchanges on gift orders. Any credit for items returned from a gift order will be issued to the original purchaser. If you need to return your product, please email us at contact@yvra1958.com.
Nice
A nice and dandy essence, complete the eau the toilet.